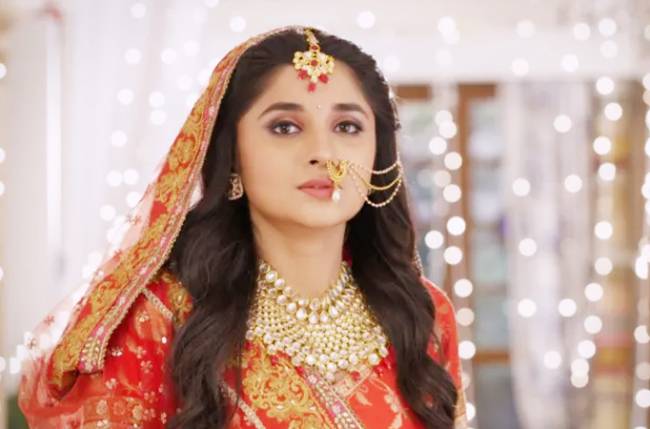 The episode begins with Alisha questioning Akshat for not engraving her mother's name on the metal pot. She tries to remove Guddan's name. Akshat gets furious and asks Alisha to respect Guddan henceforth. He makes it clear that no one can take Guddan's place in the house. Alisha gets furious and leaves from there. Guddan also goes to talk to Akshat as he goes in the room in anger. Guddan tells him that she is trying to understand Alisha. She asks Akshat to be calm down and not to get panic. Guddan asks Akshat to just wait and watch as she can change Alisha with her ways. But Akshat is not ready to tolerate Guddan's insult. He decides to teach a lesson to Alisha if she tries to hurt Guddan anymore. Meanwhile, Alisha puts her name and her mother's name on another pot. Saru and Revati try to instigate Alisha even more.
But Alisha asks them to stop irritating her. Saru and Revati get very angry with her behaviour. Later on while Revati and Saru are moving towards Durga, Lakshmi intentionally makes them fall on floor by putting her leg in their way. Lakshmi and Durga threaten to stop her when they will try to hurt Guddan again. Later on everyone gets busy preparing for the Diwali. Alisha calls Akshat. He asks Alisha to join them for the same. But Alisha reveals her plan. Akshat gets very scared as Alisha throws the big pot on Guddan's head where Guddan's head gets stuck. Guddan also gets very scared. While everyone gets tensed, Alisha enjoys the situation. She instead shows up her mother's name she has engraved on the pot. Akshat gets very furious but Alisha is determined to ruin Akshat and Guddan's life.
Akshat asks everyone to do something to get Guddan out from the pot. Akshat is very panicked but still Guddan asks him to be calm. Durga and Lakshmi bring oil. Everyone including Dadi tries to remove the metal pot from Guddan's head but they find it difficult. Guddan feels thirsty. Akshat brinds a glass of water but he feels sad as he cannot give the glass. So he brings a straw to make Guddan drink water. Kishor and Vardhan also bring a jeweller to free up Guddan. On the other hand Revati appreciates Alisha for her plan which has kept Akshat and Guddan in pain by making Guddan's head in the pot. But Saru tells them that Akshat will definitely find a solution. Still Alisha smiles. Meanwhile, the pot maker tells Akshat that they will have to cut the metal pot to remove it. Alisha comes up with the metal cutter saying that she already knew it.
She gives the cutter to the pot maker and asks him to cut the pot. But the pot maker tells that it won't be possible for him to do it as it might result into cutting Guddan's neck. Guddan still asks Akshat to do it himself as she trusts him.