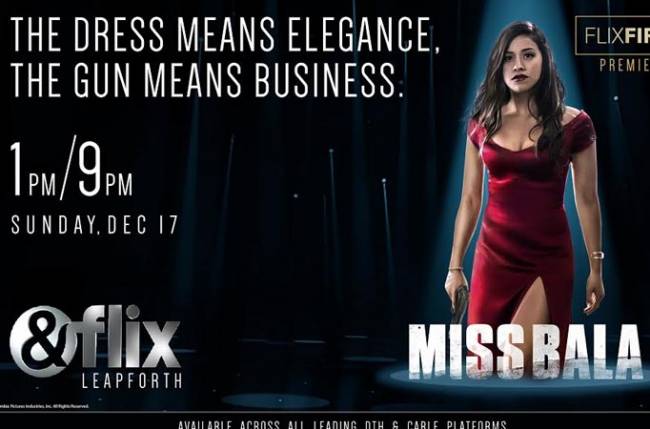 A Mexican drug cartel, corrupt cops and a girl trying to save her best friend, how far are you willing to go? Available as part of the Zee Prime English pack, &flix, the destination for the biggest Hollywood hits, brings you the #FlixFirstPremiere of 'Miss Bala' – a story of how two girls face their biggest nightmare. Premiering this Sunday, December 22, 2019, at 1PM and 9PM, Miss Bala sees Gina Rodriguez, who plays Gloria, in a new avatar. Directed by multiple award nominee Catherine Hardwicke, the film is based on a 2011 Mexican film with the same name. The movie also stars Ismael Cruz Córdova, who plays Suzu and Anthony Mackie, who plays Jimmy.
The film opens with Gloria, as she drives to Tijuana, Mexico to visit her best friend (Suzu) who is competing in the local 'Miss Tijuana' beauty pageant. During a night out, her friend is abducted, and Gloria soon finds herself a pawn in a dangerous game being played by the CIA, the DEA and a charismatic yet ruthless cartel kingpin. Finding the power, she never knew she had, Gloria plays one organization against the other, as she seeks to rescue her friend. Surviving will require all of her cunning, inventiveness, and strength. Will she be able to save her friend?
&flix offers some of the choicest Hollywood movies with World Television Premieres showcased before the world and in the language of your choice. The channel is available as part of the Zee Prime English Pack that includes 4 premium channels – &flix, Zee Café, LF and WION at a very attractive price of Rs 15/- per month only.