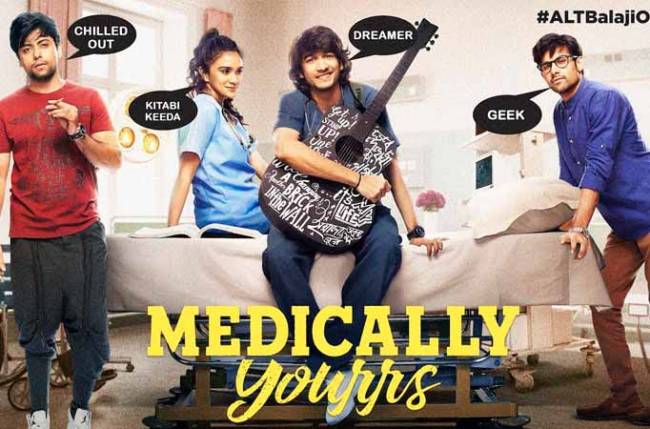 MUMBAI: The wait seems to be over as ALTBalaji has launched its most-awaited offering Medically Yourrs. The web-series showcases the struggles of medical students, the challenges, the pressures of not just performance but simply surviving and what it really takes to be a doctor! Since the first look of the show has been revealed, it has become the talk of the town with netizens buzzing with conversations and putting it on top of everyone's 'must watch' list. The wait comes to an end as this 10-episode series is now available for binge-watch on the ALTBalaji app.
This medical college drama, Medically Yourrs revolves around Abir Basu, played by Shantanu Maheshwari. Born in the family of doctors, he lives under the immense pressure of proving himself worthy in the eyes of his doctor father. While Nityaami Shirke, plays the role of Nibedita a total geek, a complete contrast to the character she had played in ALTBalaji's PM Selfiewallie. Abir's other friends, Vishesh who aims to be a doctor anyhow, Lolly who just doesn't care about anything but interestingly is the narrator of the show and Pallav who is a state topper but has put tremendous pressure on himself are together fighting the battle of trying to sail through with the final year of MBBS.
The dashing and debonair heartthrob Shantanu Maheshwari, on playing the protagonist Abir shared, "This is a very different character that I am playing. Abir has actually given me a glimpse into the real life of medical students, something I have never even imagined. I'm very excited about the web-series as I am taking up an acting project after long, something I was actually missing. I had a great time working with the entire cast and crew. The entire unit has been very hard working and the off-screen chemistry between the entire cast will definitely reflect on screen."
What makes it an interesting watch is Abir's struggle to be a topper by defeating the current class topper Nibedita, by hook or by crook and the situations he puts himself in order to beat his rival.
Far from the mainstream medical college caged with dilemma and tensions, Medically Yourrs will actually reveal the world that lies beyond it. A world where friendship, love, competition, passion, and dreams exist in unison. The show also features actors Bijay Anand, Shubhaavi Choksey, Ivan Rodrigues in pivotal roles. Filled with lots of real-life instances of what MBBS students go through, the web-series is sure to take the audience on a ride full of aspirations, surprises, fun, and emotions.
Medically Yourrs is streaming now. To binge-watch the series, download and subscribe to ALTBALAJI app!