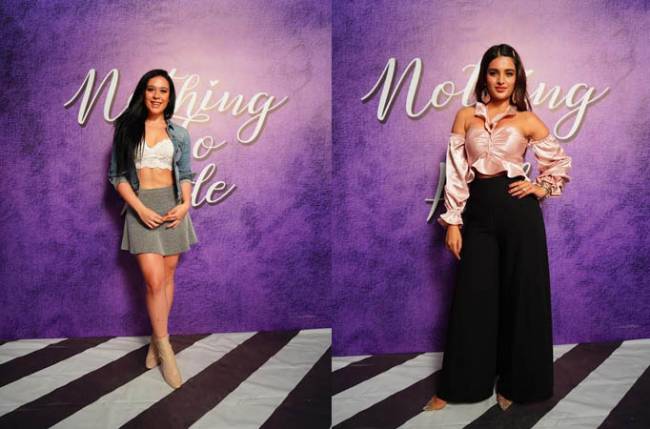 Meet Bollywood's newest gossip girls. They are fun, they are fiesty and they say it as it meant to be said! Krishna Shroff and Nidhhi Agerwal are coming together for the first time to spill some beans in conversations that include some shocking revelations, some bold statements and a whole lot of fun in the upcoming episode of By Invite Only exclusively on zoOm.
In a true #NothingToHide spirit of the show, Krishna Shroff spoke on her openness of confessing about relationships on social media, she said "To each is their own, I've never understood why to hype that. I'm proud of the person I'm with, so why to hide that from with anybody" When asked to address the same question for her brother, she said the words that an entire generation of young girls is dying to know, Shroff junior said, "You know that I don't lie and how straight I'm about everything. Tiger is 100% single." Finally confirming that Disha Patani and Tiger Shroff are no longer a couple!
When asked about choosing between Tara Sutaria and Disha Patani, Krishna chooses to pick the former, which is definitely mysterious. When questioned about following 'only friends' on Instagram, Krishna was quick to quip, " I do follow all my friends on social media. 'Friends' definitely". A quick check on her Instagram account also led us to the fact she has unfollowed Disha.
Further in the episode when questioned about approving of any of her brother's girlfriends, she quickly responded by saying, "I am a really protective sister. Tiger is too nice to be true. It's easy to take advantage of that. When it comes to him, I've been very alert. There may have been a girlfriend of Tiger that I didn't approve of." Well, we all know he has dated only one beauty in the industry.
From brother to father, Krishna was her candid self when she claimed that her father's swag remains unmatched. "I like the fact that Ranveer takes the risk it's cool but I don't think anyone can beat my dad when it comes to style game, even today."
Talented actress Nidhhi Agerwal, who has done 5 films in the short span of 2 years, shared how the box office numbers don't affect her, she said, "I never look at my life as Friday to Friday, my success or failure doesn't depend on a film's success or failure like it doesn't change it every Friday. I think of myself as someone who has come up pretty much from nowhere worked her way up and got like a huge first film. I've done about 5 films in the last 2 years. I'm just super happy."
The Quickie section which is known to bring out the best in guests had Nidhhi pick out her date. When asked to choose between Tiger and Akhil Akkineni, she said, "It's just a date, I will go with both. I haven't seen both of them in a while, so I will go with both"
Unabashed in her responses, Krishna said she'd 'set-up' Disha Patani with Aditya Roy Kapur, fuelling the news of them being an item. When asked about her frequent visits to a popular restaurant where she was often photographed with friends, especially with Disha Patani, she blatantly said, "Not any more actually, that's changed. Things change, places change, times change"
Bringing out the protective sister side of her personality, Krishna when asked to complete the sentence on if she found out that Tiger was being cheated by his girlfriend, she said, "And I had evidence, I would probably whoop her ass".
Niddhi finally addressed to the rumors about her link-up with the young cricketer and controversy that followed post a chat show he went on, she said, "People who spoke in bad taste have bad taste. That's not my problem. I don't know why sometimes people get defensive, react to it and say something that is not in good taste. I genuinely don't care. I am not like that."